Assalaam aleykom WBT. This coming 20th March, I've been told by my good friend
Fernando Ikhmal Akhmal Al-Thenggirrie
that a fishing trip has been scheduled. Yeps, it's that time again, where I change my hat from a PhD student to a Mackerel hunter in the deep Yan (Kedah) seas. This time however, it's gonna be a bit different, where the fishing ground won't be the
tuas-es
... instead, we're headed for the legendary GERMAN SUBMARINE WRECK!!! Or... commonly referred to as KAPAL KARAM by the seasoned Yan fishermen. Well, actually this isn't the most legendary Kapal Karam... the famous one is in Penang... and of Russian origin. The one we're going to is a submarine (kapal gak la tuuu).... and of German origin. TQ Fernandi Akhmal for the correction info :D
It's gonna be an extra 30-minutes boat ride I reckon... Normally, it takes around 45-minutes to 1-hour to reach the usual
tuas-es
... so now I guess we'd be making more nautical miles :) I think we're going in the same kind of boat... quite small and can only fit around 7-8 people max (even banyak tu pon dah shempit sket). So kena tahan sket la the extra 30-minute journey...
Selalu kat
tuas
tangkap tenggiri je. Since German Wreck ni dalaam sikit air dia (plus the fishies can make homes in the wreckage itself), maka insyaAllaah, there are more species of fish to hunt for.... For myself... I am now already deeply in love with the delicious meat of the Spanish Mackerel (lebih2 lagi when caught FRESH!). I also admire their fighting spirit and the way the rod bends when the fight is at its peak... Dan maybe... when I do get my hands dirty at the German Wreck... kot2 la dapat tangkap spesis ikan lain yang kasik fight lagik power... Lepas ni buleh la tambah koleksi love affair dengan ikan lain pulak insyaAllaah :D hehehehe. Oraits...
PS:- Dua for our safe go and come back ek in case jadik pergi. Assalaam aleykom WBT...
BELOW ARE PICS FROM TO THE RUSSIAN WRECK... NOT THE GERMAN WRECK... BUT A GOOD WRECK NONTHELESS
THESE IMAGES FROM:

[ HERE ]


AJED hooking the fish... a biggie mate!



Fighting furiously for the final land!!!



Fish: GT 13kg
Location: Russian Wreck, Penang
Fishing Rod: Berkley Lightning 17-30lb
Fishing Reel: Daiwa Freams 4500J
Fishing Line: Jigman X4 40lb
Shock Leader : Xzoga 50lb
Popper: Surecatch Albino 40g (Luminous)




THESE IMAGES PULAK FROM:

[ HERE ]


And not forgetting the usual Mackerel a.k.a. Tenggiri... always good to land one of these :)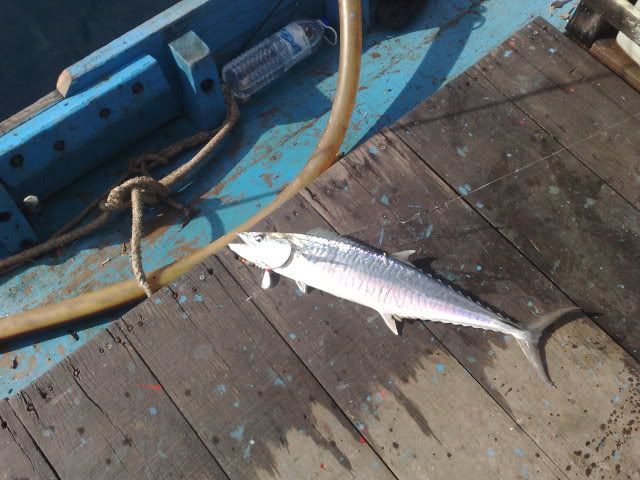 Defeated Spanish Mackerel... buat kari sedap ni :D